A Christmas Dinner for Street Dogs
Burns is incredibly proud to be teaming up with Street Paws and Nigel Owens to make sure hundreds of homeless dogs are fed and cared for over the festive period.
50,000 Homeless Dogs will be Living on Streets This Winter
Sadly, there are now an estimated 320,000 people now classified as homeless in the UK. This is an all time high, driven by COVID-19 and its devastating impact on jobs.
The only comfort for these thousands of people are the 50,000 dogs that keep them company on the streets.
Sadly, only one in ten shelters admit dogs, and their owners would rather live on the streets than indoors without their beloved companions.
Times Are Tough
These dogs and their owners depend on the generosity of the public, but the pandemic has put an end to footfall in our town centres and cities and our homeless are suffering because of it.
Who are Street Paws
Street Paws are heroes to UK street dogs and their vulnerable owners.
They're a charity made up of dedicated volunteers who support the homeless with free veterinary care and food throughout the UK.
This Christmas, they're working with Burns to feed and care for as many street dogs as possible.

Michelle Southern BCAv, Founder and Director of Street Paws, says 'With Christmas just around the corner, we're seeing an unprecedented number of homeless people and dogs.
We are working tirelessly with our partners, Burns Pet Nutrition, to ensure that this Christmas, homeless dogs are cared for and fed during the festive period.'
Nigel Shows Pet Homelessness the Red Card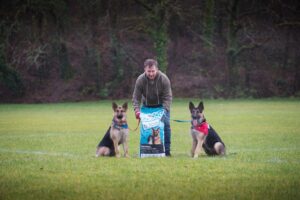 After announcing his retirement from international rugby, Nigel Owens MBE takes on a new challenge to help feed homeless dogs over Christmas and the new year.
He's immensely proud to lend his voice to the cause.
He says:
'Whilst most canine family members are enjoying a festive time at home, there's an alarming number of homeless people with beloved pets that are not enjoying these comforts.
As Christmas fast approaches, we'd love to ensure that as many dogs as possible receive a nutritious Christmas festive feast that fills their belly.
Every dog deserves a Christmas Dinner.'
Donations to Street Paws can be given through PayPal via the Street Paws website.