You may have seen a recent email or social media post about our decision to discontinue our Free-Range Egg Wet Food.
We didn't make this decision lightly. While this means we can make room for lots of exciting new recipes in the future, you may be wondering why we made the decision to discontinue our eggy wet food in the first place.
It just wasn't working out…
Quite simply, our Free-Range Egg Wet Food takes far longer to cook and costs more to produce than our other recipes. This increase in cost is down to the ingredients we use in the recipe, and the amount of energy it takes to keep production going. The solution was to either raise our prices to keep this less popular recipe going, or to say goodbye for now.
I have a sensitive dog who loved the egg variety, what should I feed them now?
What's great about Burns is that we make all our food in simple recipes with sensitive tummies in mind. If your dog is partial to wet food, you'll be happy to know that any our wet food recipes are suitable for sensitive dogs because they have simple ingredients without any nasty stuff. However, every dog is different, so remember to choose according to your dog's individual needs.
Dogs with allergies might benefit from swapping to our Sensitive Pork and Potato dry food recipe. While our Wild Fish with Carrots and Brown Rice wet food recipe is great for dogs who are sensitive, watching their weight, or who suffer from pancreatitis, thanks to the low fat content in this particular wet food.
Need help choosing a new food for your dog? Contact one of our nutritional advisors for some quick advice. or online chat feature here
Do you have any vegetarian options?
Well, we no longer have a vegetarian option in our range now that the egg variety has gone, but we do have our Carrot Bite treats, which are made with 100% carrots. Even though we don't have a vegetarian variety for now, if you're choosing plant based because you're concerned about the environment, the meat used in our other wet products is as sustainable as it comes. In fact, our free-range chickens come from a lovely farm in West Wales that overlooks the ocean!
The future of Free-Range Eggs at Burns
Even though our egg wet food wasn't our most popular product, some of you might miss this particular recipe. But don't worry, we now have a gap in our recipe book that we can fill with other exciting meals that we're sure your dog will love. We may even revisit Free Range Egg recipes in the future. Until then, take a look at some of our other tasty and nutritious wet food recipes and see if you can find your dog's new favourite.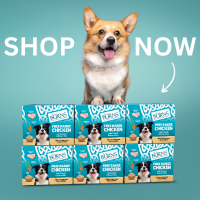 If you'd like to get in touch with us about the discontinuation of our egg wet food, or share thoughts on the recipes you'd like to see in the future, please contact info@burnspet.co.uk