Burns Pet Nutrition has a long history of addressing the challenge of sustainability. We continue to make changes to our approach and business to ensure that we are meeting the needs of future generations. Whilst in Ireland before Christmas, we took the opportunity to visit a farmer who can only be described as inspirational.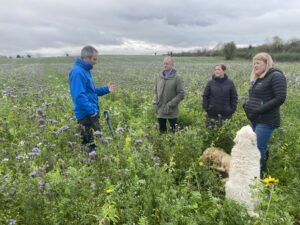 Having driven alongside acres of colourful fields that even on a cold November morning were a pollinator heaven, we pulled up at the farmyard to be met by Jonny Greene and his spade. Jonny farms 1000 acres alongside his father Nassau in Athy, County Kildare growing a mix of wheat, winter and spring barley, gluten free oats, winter rapeseed and peas for Batchelors.
As we walked to a field of winter cover crops, Jonny explained the no-tillage system adopted on the farm. Over the last twenty years they have moved increasingly towards a conservation agriculture approach, and the results have been ground- breaking, no pun intended.
The theory behind the move is that the no-plough system minimises soil disturbance and sequesters carbon over time, as organic matter  and soil carbon levels increase. Soil naturally stores carbon, but when ploughed, carbon, in the form of organic material such as plant roots and microorganisms, rises to the soil's surface and when exposed to oxygen in the atmosphere transforms into carbon dioxide. This obviously contributes to greenhouse gas emissions. The no-plough system avoids this, and keeps the carbon in the soil. Instead of ploughing, seeds are drilled directly into the ground. The direct drilling of cover crops consisting of Sunflowers, Phaceilia, Linseed, Legumes and Brassicas is of integral importance as the roots and shoots of these crops feed bacteria, fungi, earthworms and other soil organisms, which again increases soil carbon levels over time. Under this system, the capacity of the soil  to retain moisture increases.
No-till also reduces cost in terms of fuel and machinery use, causes less damage to soil structure, lessens the risk of soil erosion, compaction or flooding. Environmental damage from nitrogen leaching and pesticide run-off from bare (ploughed) land is also minimised. A significant environmental benefit is the increase in food and habitat for insects, birds and wildlife.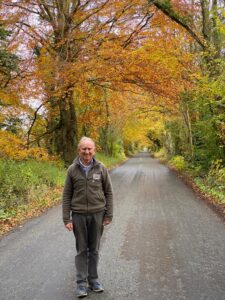 Jonny's job was to convince us that the theory was indeed true, and his spade was put to good use at the field. He was able to show the healthy soil structure in a field that had not been ploughed for over 10 years. The soil was a dark, rich colour with a fantastic crumbly structure. There were countless worms on his spade and visible organic matter. Following a week of rain, there was no compaction or water logging either. The soil quality looked excellent in a field that Jonny labelled as being quite sandy and rocky.
Jonny described this way of farming as 'simply letting Mother Nature do her work'. He no longer aims to eradicate what were regarded as pests such as aphids, birds and slugs, and as such his workload is significantly improved. What is most remarkable is that his yield has not reduced, despite costs and workload doing the opposite.
He said: "I think the biggest thing I can say about my move to conservation agriculture is not only the increase in species and diversity on the farm but my profits have improved also."
We live in a world where sustainability means meeting the needs of our modern society, but without compromising the needs of future generations. Sustainability is often referred to under three pillars – profits, planet, and people. Make that four pillars by including pets.
The pet food industry faces a number of challenges to sustainability; for example, energy use, packaging, waste disposal, emissions, food miles.
My visit to Athy demonstrated what can be achieved by challenging standard farming methods.