Burns Recipes | Easy 3 Ingredient Pumpkin Dog Biscuits
From falling leaves to snuggly scarves and a million online posts about Pumpkin Spice Lattes, Autumn has finally arrived, and we couldn't be happier! Burns nutritionist Emily, and her big fluffy furbaby Moose, found the perfect way to celebrate the festivities, by creating a 3-ingredient dog biscuit recipe that's bursting with healthy pumpkin goodness.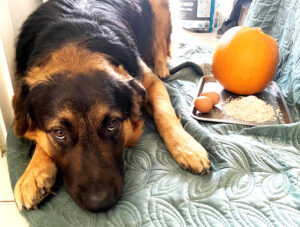 The Recipe
If you're looking for a way to include your dog in the autumn festivities, look no further than my tasty and pumpkiny recipe for dog treats. These pumpkin dog biscuits have gone down a treat with my new rescue dog Moose, and I'm sure they'll be popular with yours too!
Healthy and Delicious
As well as pumpkin being tasty and low in calories, it also has a lot of health benefits for dogs. Pumpkin is loaded with vitamin A for eye, skin and coat health, and has antioxidant and anti-inflammatory properties. So, for a healthy and tasty way to give your dog their Autumn pumpkin fix, this easy 3-ingredient recipe could just be the best dog biscuit recipe ever.
The Ingredients
250g oats
2 eggs
200g pureed pumpkin
(If you can't find pureed pumpkin in the shops, you can make it by boiling or roasting ¼ of a pumpkin, and then blending it, or even mashing it with a potato masher!)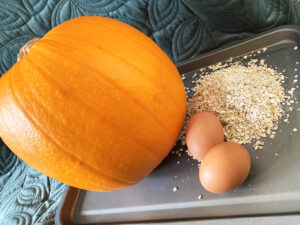 The Method
1, Preheat your oven to 180°C and then add the oats to a bowl and create a well with a spoon. If you can, first blitz the oats in a blender for a few seconds so they are a bit finer. Add the pureed pumpkin and eggs into the well and mix everything together. Simple and delicious!
2, Line a baking tray with greaseproof paper and then, using a teaspoon, scoop some of the mixture into a ball and place on the baking tray. These lovely little dumplings don't spread out at all, so you can put them quite close together to fit them all on in one go.
3, Place the batch in the oven for about 18 minutes or until golden brown.
Although the beautiful, autumnal smells coming from your kitchen will be tempting, make sure the biscuits are completely cool before you give them to your dog!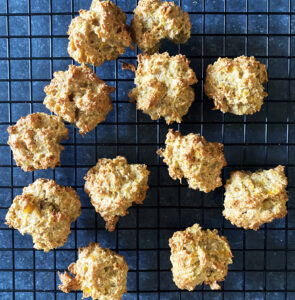 Afterwards
These should last for a couple of weeks in an airtight container. Also, if you were thinking how perfect these would be for little Christmas gifts for your friends with dogs like I was, but were wondering how you could keep a pumpkin that long, you can freeze the pumpkin puree you make for up to three months, and then defrost to make the biscuits!
Remember that treats should make up no more than 10% of your doggo's diet and feeding amounts should be adjusted accordingly!