Carrot treats are natural; high value rewards for your rabbit or guinea pig. Use an occasional treat and dont forget to adjust the daily amount of dry food accordingly.
Burns Carrot Treats are the ideal way to treat your rabbit; guinea pig or other small animal.
Feeding Guide
Ideally the diet of the pet rabbit; guinea pig or chinchilla should mimic that of their wild cousins. Grass and hay must be the bulk of the diet. Hay should always be available and supplemented with fresh vegetables; wild plants and herbs. Dry pelleted food and cereal mixes should form the smallest part of the diet. Young; pregnant or nursing rabbits or those housed outdoors may need more high fibre dry pelleted food.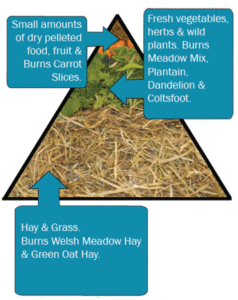 Hay is the foundation of the feeding pyramid and should not be considered as simply bedding material. A variety of hay and grass should form the bulk of the diet as its high fibre content supports
We have a range of healthy low fat food for dogs here and a range of healthy dog treats here.