Managing Bertie's Uncomfortable Tear Staining Issue
Going against the conventional view, Veterinary Surgeon and Founder of Burns Pet Nutrition, John Burns MBE believes that tear staining is caused by a build-up of toxic waste in the system.
"In my experience, tear staining is common with numerous other health problems, and can be successfully eliminated by the correct, holistic approach to health and nutrition. Many people attempt to deal with                  this as a cosmetic issue by trying creams and water repellants on the face. We humans ought to understand how uncomfortable and irritating it is to have runny eyes".
What is Tear Staining?
Tear staining is typically known as a common cosmetic problem that occurs in breeds such as the Bichon Frise and Westie. It can also be common among senior dogs. These dogs often have runny eyes where the tears stain the hair on the face a pinkish-brown colour.
Vet, John Burns believes that many commonly known facts about tear staining are myths:
"It is a breed problem so it should be accepted" – Tear staining can be very uncomfortable for pets.
"It is caused by narrow tear ducts" – This is not always the case.
"It is a cosmetic problem" – Think about how you would react to your eyes streaming daily.
John Burns shares his holistic approach to pet health and nutrition with many pet owners in his local community in West Wales. When John saw Emily and her Bichon Frise, Bertie in Parc Y Bocs Café in Kidwelly, he pointed out the dog's tear stains. Emily says:
"John noticed Bertie's eyes and explained that people believe certain breeds have tear stains, although he believes that it is due to poor quality food and overfeeding. John took the time to explain this and                  recommended the Burns Sensitive range for Bertie".
When Emily adopted Bertie at 8 months old, she had already trialled a variety of diets with Bertie prior to meeting John. "He was being fed supermarket food, meat and kibble and his coat and tear stains were really poor".
Much like humans, it is thought that overfeeding even a high-quality food can cause toxic build up in pets. There are several potential causes of this excess waste production.
Poor quality food – unsuitable ingredients; chemical additives
Overfeeding – even of high quality food
Excessive intake of protein and fat
Food allergy/intolerance
Chemicals and additives in the diet such as colourings and other non-food ingredients
It's important to consider all possible causes of a build-up of toxic waste in the system before changing a pet's diet. A dog may have a sensitivity, allergy or intolerance to a certain protein or other ingredient. True allergies in dogs are extremely rare, however some may have a dose intolerance to a specific ingredient. In some cases, pet owners may find that their pets benefit from a grain free diet.
Emily feeds Bertie Burns Sensitive Duck & Brown Rice, as recommended by the vet. Duck is a novel protein source, making this product especially suitable for dogs with intolerances to more common proteins such as chicken, lamb or fish. While it may not seem problematic at first glance, tear staining can indicate a food sensitivity, which can be managed with Burns Sensitive.
Whilst feeding a natural diet can take many months to make a difference, after feeding Burns Sensitive to Bertie for two months, Emily saw a clear change in Bertie's appearance. The tear stains were beginning to disappear. "John explained that it would take a few weeks to see a difference, and now his eyes and coat look great!".
"I can't believe the difference in him. I have recommended Burns to so many friends including Bertie's sister Nansi, and already her tear stains are clearing up after a few weeks".
Along with the rest of the Burns team, John is passionate about spreading the word about the power of healthy nutrition for pets. The Burns Nutrition team speak to pet owners every day, just like Emily, whose pets are struggling with diet-related conditions. Tear staining is just one example of this. The Nutrition team support the maintenance of many conditions including pancreatitis, excessive weight and allergies. More often than not, pet owners are positively surprised by the power of natural nutrition.
While production and elimination of waste products (toxins) is part of normal metabolism, it's important for pet owners to look out for the signs of excessive waste production, such as tear staining and anal gland problems.
Bertie BEFORE …            Bertie AFTER…!
     
Why feed Burns?
From their first walk through to their senior years, Burns recipes were created for every breed and life stage. Burns focuses on using a handful of simple, wholesome ingredients so that your pet can get all the nutrients they need with absolutely no nasties. All recipes are free from common allergens such as dairy, beef and wheat gluten, making them ideal for even the most sensitive dog.
Many pet food competitors promote high levels of meat protein. Burns recipes promote controlled levels of protein and fat, with more focus on feeding a natural, wholesome diet based on complex carbohydrates.
Meet your pets needs instead of exceeding them from the very start. Burns Puppy Food contains precise levels of fat for healthy growth and development and precise levels of essential nutrients to avoid obesity. The natural and simple ingredients contain no nasty fillers, which eliminates excessive waste production.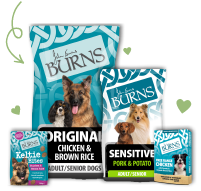 Shop The  Range