Our meadow hay contains a diverse blend of grass and flower species and is produced on our own non-intensively managed Carmarthenshire farms. This is unlike many other brands of hay which are usually produced from a single type of grass. The rich variety of wild plants and flowers in our meadow hay reflects the natural diet of a rabbit as much as possible.
To maintain health; rabbits should be fed a high fibre; low fat natural diet and hay and grass should form at least 80% of their daily ration. Our Welsh Meadow Hay is a complementary food which should be fed with our Green Oat Hay as the bulk of your rabbit's diet. These delicious hays should be supplemented with fresh greens including wild plants; vegetables and herbs and dried herbs and wild plants such as our Coltsfoot; Dandelion; Plantain and Meadow Mix. Dry pelleted foods should make up just 5% of your adult rabbits diet.
Please note: Variation between batches of this hay is normal. Our Welsh Meadow Hay is produced from traditional meadows which contain a variety of species of grasses and flowers. Variation will also occur between years due to growing conditions including the soil and weather.
Feeding Guide
Ideally the diet of the pet rabbit, guinea pig or chinchilla should mimic that of their wild cousins. Grass and hay must be the bulk of the diet. Hay should always be available and supplemented with fresh vegetables, wild plants and herbs. Dry pelleted food and cereal mixes should form the smallest part of the diet. Young, pregnant or nursing rabbits or those housed outdoors may need more high fibre dry pelleted food.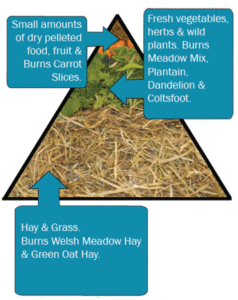 Hay is the foundation of the feeding pyramid and should not be considered as simply bedding material. A variety of hay and grass should form the bulk of the diet as its high fibre content supports digestive function. Chewing hay and grass also helps to maintain healthy teeth.