We're celebrating and you're invited!
Coinciding with our 30th anniversary, we're going bigger and better than any other Dogs' Day Out.
With loads of fun-packed activities to get involved in, this dog friendly event is perfect for dogs and dog lovers alike.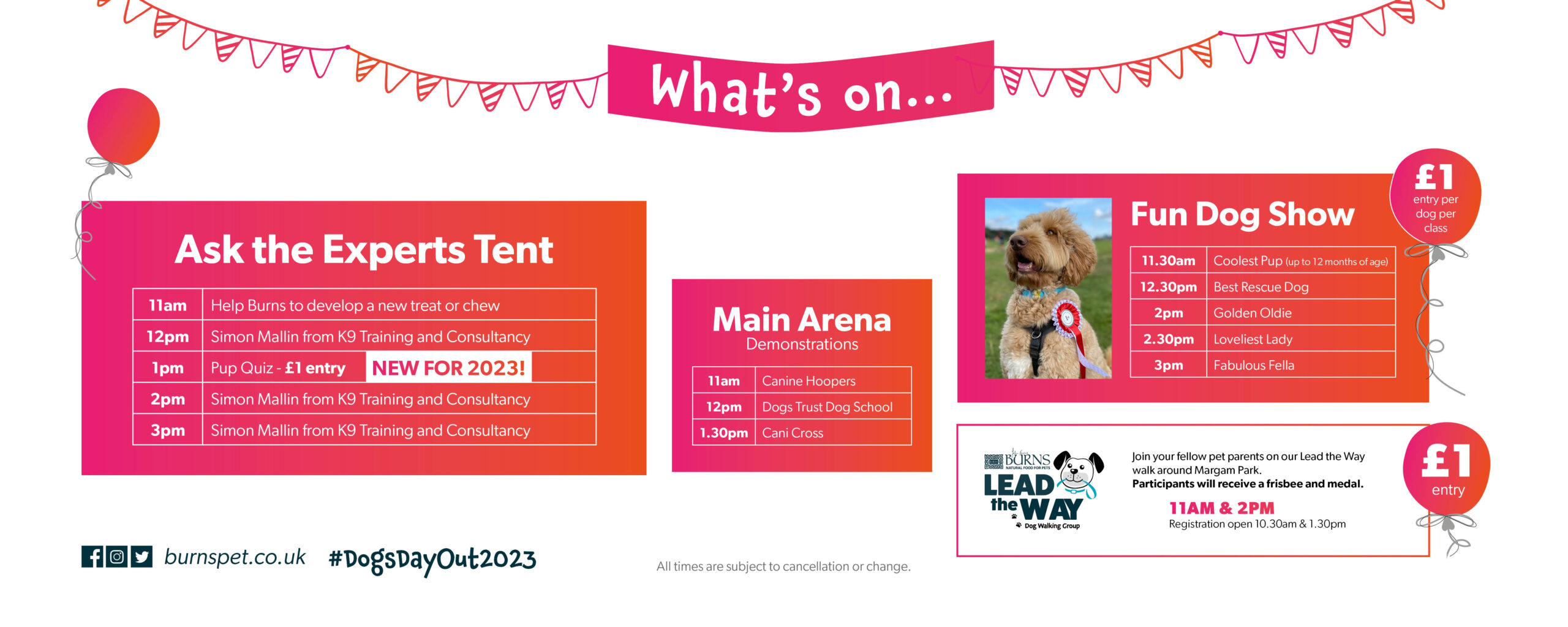 What's On?
Chat with our professional pet nutritionists and get free advice. We love a natter!
Vets and First Aid stall (safety first!)
Shop 'til you drop with independent trade stalls
Fun-packed have a go activities, fun dog show and demonstrations
Group walkies with Dog Furiendly
A Dogs' Day Out for all the family!!
Make sure you get your free tickets here to secure your place at Dogs Day Out 2022!
This year's Dogs' Day Out will be "birthday bash" themed, with a party bag given to every dog attending, plus loads of freebies and prizes to be won throughout a day of fun.
After last year's success, we're thrilled to be returning to the wonderful Margam Country Park! The venue is easily accessible from the M4 and it offers a great space for dogs to run around, socialise and enjoy the great outdoors.
Dogs' Day Out 2023 is a great opportunity to meet fellow passionate pet owners who are crazy for canines, while offering some quality mental enrichment to your pet and fun for the whole family.
Everyone is welcome, especially four-legged friends! So save the date and paw on over to Dogs' Day Out 2023 for free on 17th September 2023! The event is free but parking charges apply.
Interested in bringing your trade or charity stand to our event in South Wales? Email events@burnspet.co.uk for more info.
Let's get chatting about #DogsDayOut!
Additional information
Whether or not you've attended one of our events before, please be assured that everybody (both humans and dogs) is welcome! For details on wheelchair accessibility, please see the Margam Country Park website.
To keep your pets safe, we kindly ask that any puppies coming along are at least 14 weeks old and are up to date with vaccines. Do not leave dogs unattended in cars. All dogs attending must be on a lead. Bins will be located all around the event so we ask that you please clean up after your dog.
Food and drinks available at Margam Country Park.