For 27 years, we've delighted pets across the world with our natural pet food. There's no cookie cutter approach to pet nutrition and the wee boss man, John Burns spent his career ensuring pets of all ages and needs enjoy exceptional food made just for them, including our wet food Penlan.
John believes in the natural approach so all of our pet food is made using a handful of simple ingredients with no sneaky surprises. Our no nonsense ingredients include brown rice, lean protein and vegetables. We offer over 10 varieties of tail-waggingly-tasty food for dogs including a weight management range and a grain-free range. We find that most owners tend to keep their prized pooch on the same variety of food but from time to time pets love to try something new.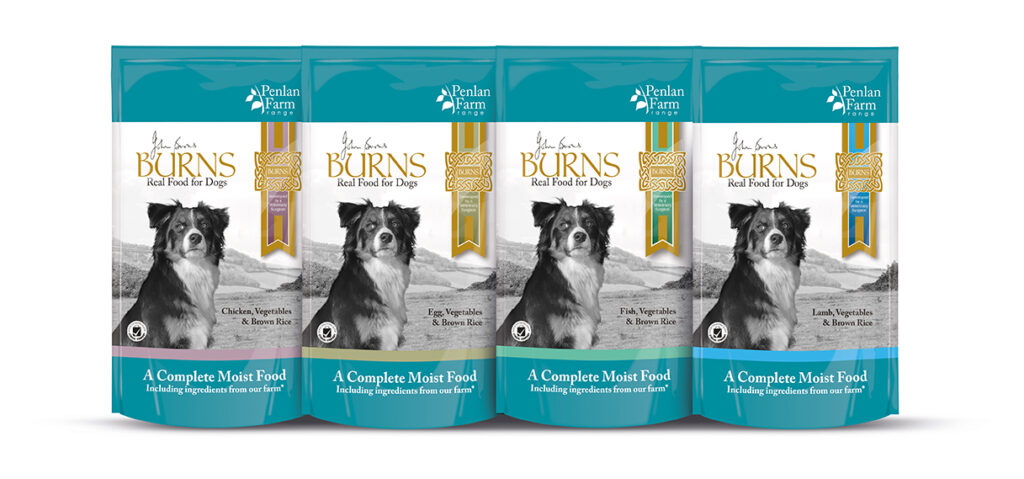 Introducing, Penlan Farm
We are delighted to offer a wet dog food range that goes by the name of Penlan Farm. This award-winning line is made and produced right here in Wales at our Burry Port factory. This is by no means a new venture of ours. In fact, Penlan Farm hit the shelves over a decade ago. But in the spirit of raising awareness, we thought it would be nice to write a blog and tell you a bit more about our premium wet food range.
4 lipsmackin' varieties to choose from
Variety is the spice of life and we want to give pet parents the choice and agency to offer their pooch the very best. That's why we offer four different varieties of Penlan Farm including ocean fish, organic chicken, lamb and free-range egg. All varieties are served with seasonal vegetables, brown rice and essential vitamins and minerals. Penlan Farm food is complete which means the recipes contain all the nutrients a dog needs to thrive. Pretty pawsome, right? This wholesome food is also a real winner with sensitive pets who may have intolerances to certain pet food ingredients as it is dairy-free and hypoallergenic.
Why did we create a Welsh pet food line?
Convenience – We created Penlan Farm so that busy pet parents can instantly serve their pet a delicious meal that doesn't scrimp on nutrition. Simply open the pouch and watch that dog's tail wag!
Concern for the environment – We wanted to make a pet food closer to home. Most of the ingredients for Penlan Farm are sourced from within Wales and the products are made on site at our Burry Port factory. We also wanted to create a meat-free option so that veggie pets could get in on the action too. We've achieved this with our free-range egg variety which is a hit with dogs far and wide.
Complete choice – Before Penlan, we found that many Burns customers were mixing their pet's food with a low quality wet food. We wanted to create our very own complete wet dog food enabling pet parents to have the choice to feed Penlan exclusively or mix it up with our dry food.
Real food – John is an advocate of real food with absolutely no nasties. When you open a pouch of Penlan, you can see the peas and the carrots. This is real food modelled on human food and designed to really nourish pets.
What our nutritionists say
Penlan suits even the fussiest of pooches they will find their love for food coming back. Being a complete food, Penlan can be fed on its own or combined with some biscuit. You can even just use it as a topper, its available in two pouch sizes 150g and 400g, these keep in the fridge once open for 3 days and if portioned can be frozen, meaning nothing goes to waste.

It's a brilliant food to fill Kongs and other feeding toys. These simple yet flavoursome foods can be a winner if your pooch is a sensitive soul containing a small list of ingredients and free from anything artificial, it can be an ideal choice for dogs with dodgy tummies or trying to solve recurring infections, want to know more then give the ladies on the helpline a bell, its free to call and they will be happy to help, they can even work out a feeding plan for you and Buster.

Chicken, Vegetables & Brown Rice– this wet food contains organic chicken and brown rice, a tasty food to feed, suitable for sensitive dogs. Lamb, Vegetables & Brown Rice– like a Sunday dinner every day of the week, a delicious dish made using lamb hearts. Fish, Vegetables & Brown Rice-The fish variety is low in fat so ideal for dogs prone to gaining weight or those suffering from pancreatitis, the fish is sourced in the North Sea. Egg, Vegetables & Brown Rice– We are often asked why egg? Egg is a great source of protein and rich in vitamins and minerals and egg can be a great food to give a dog if they have an upset, egg and rice is something we recommend every day on the helpline it can really help an upset stomach and settle it back. Or if you looking to feed a vegetarian diet then this is a great option.

(Nutritional Advisor, Vicky)
Can humans eat Penlan?
This may seem like a pawsitively silly question, but actually all of our food is human grade making it perfectly safe for humans. John has been known to try the occasional pouch of Penlan, likening the taste to a risotto. We were also contacted by a Derbyshire customer who snacks on our dry food sometimes while walking his dogs.
Paw Over the Penlan Farm Range
 We hope this blog has given you paws for thought on our Penlan Farm range and offered an insight into why pets love it. Whether you'd like to feed your pooch exclusively on Penlan or mix up their diet a bit, head on over to our product page to check the full range out.